Pyramid Repel 55 Mosquito Repellent Deet Spray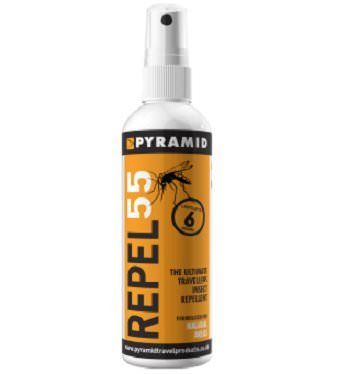 Pyramid Repel is made from 55% Deet and provides 4-5 hours protection. The single bottle will last a single person one month if used regularly.
The 55% concentration of Deet is a high when compared to most other mosquito repellents. This makes the spray highly effective in most tropical countries. Pyramid also make a 100% deet version for use in jungle areas, this however will be unnecessarily strong for most destinations.
We used the spray in Cambodia, Thailand and Vietnam and found it stopped mosquito bites completely.
Take care when applying the spray, do not use on your hands to avoid ingesting the deet. The spray dries with out leaving a noticeable residue and doesn't have a strong smell.
Don't use DEET of this concentration on children below 12 years old and as a precaution wash off any excess when no longer needed.