Defenders Mega-Sonic Cat Repeller
Ultrasonic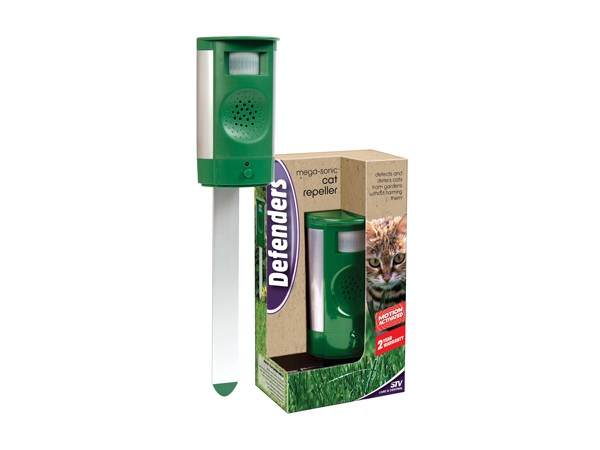 This is an ultrasonic cat repeller trigerred by an infra-red receiver that senses the cats body heat. It produces an ultrasonic sound targeted at cats at a frequency of 18kHz to 24kHz, the sound is inaudible to us humans. It has an effective range of up to 10m over an arc of about 100 degrees, again you'll need multiple units if you need to cover a larger area.
The repeller is powered by two 9v batteries that should last a couple of months depending on how often the unit is triggered. You can also see if the unit is triggered by the LED on the front of the repeller.
A nice touch is the addition of a test button that when pressed will emit a lower frequency sound that we can hear allowing you to test the repeller is in working condition.
We love this well thought out and well made ultrasonic repeller and highly recommend it as one of the best available.