Pestbye Solar Powered Cat Repeller
Ultrasonic Strobe Scarer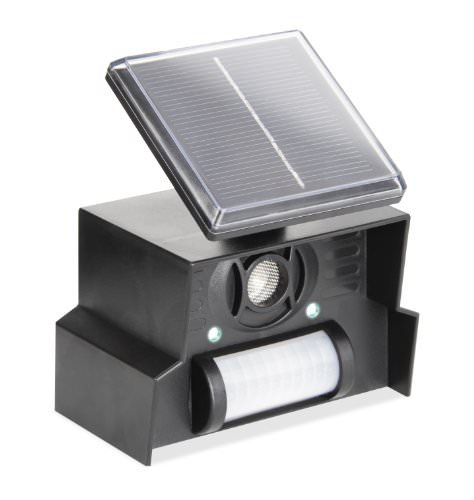 The PestBye is an ultrasonic cat repeller with an extra deterrent in the form of a strobe light. The repeller is activated by it's motion sensor and so doesn't transmit the ultrasonic sound unless a cat triggers it. The strobe can be disabled if you wish using a switch to toggle the setting. Being solar powered this unit shouldn't need much maintenance, just ensure the solar panel is angled towards the sun so it remains charged.
The ultrasonic sound is targeted at cats and is inaudible to us humans. The range is about 7m or 20ft, over a 110 degree arc, so if you wish to cover an area larger than this you will need multiple units. The ultrasonic sound will not travel through fences well so you don't need to worry about your neighbors dogs or cats.
We found the PestBye to be a good repeller and the solar charging works even in weak winter sunshine, overall it's highly recommended.