Zlolen Bark Box Professional Utrasonic Dog Repeller Review
Effective Up to 50 Ft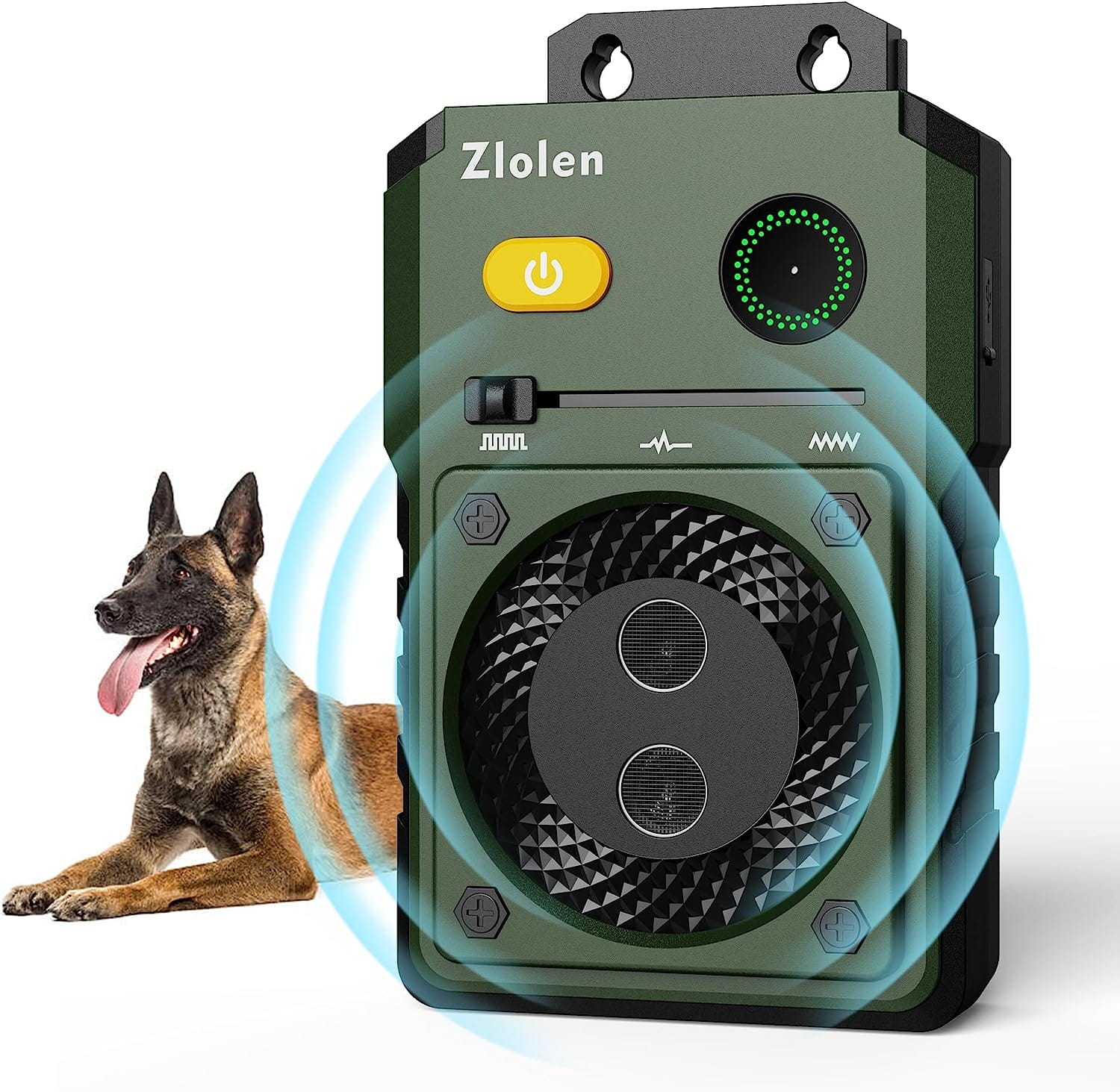 By Sigmund Daughty, Expert Reviewer for Repellent Guide

published: Sep 07, 2023 | updated: Sep 07, 2023
In the vast world of dog behavior correction tools, the Zlolen Bark Box Professional Ultrasonic Dog Repeller stands out with its promise of using ultrasonic technology to address incessant dog barking. With the increasing number of urban dwellers facing issues with neighborhood dogs, a solution like this is timely. I've dedicated several weeks to testing this product in various conditions to provide a detailed review.
---
Features & Specifications
Ultrasonic Technology
Designed to safely intervene in dog barking, this technology promises to be a humane alternative to shock collars. It aims to capture a dog's attention without causing any physical discomfort.
50 Feet Control Range
With an extensive range, this feature ensures that even if the dog is at a distance, the device can effectively intervene and correct the behavior.
3 Frequency Modes
Tailored to cater to different dog temperaments and sizes, these modes offer flexibility in addressing various barking intensities.
Automatic Barking Detection
A standout feature, the device claims to recognize dog barks exceeding 84 DB, ensuring that it's not triggered by other ambient noises.
Battery Life
A 45-day battery life after just a 4-hour charge is impressive, reducing the hassle of frequent recharging.
Waterproof & Durable Design
Constructed for outdoor use, it's designed to withstand the elements, ensuring longevity.
---
Personal Testing Notes
Upon unboxing, the Zlolen Bark Box exuded a sense of durability. Its design seemed thoughtful, and I was eager to see it in action.
Initial Setup: The device was user-friendly, with clear instructions. I strategically placed it in my backyard, a hotspot for my neighbor's dog's barking escapades.
Mode Testing:

Mode 1: Aimed at sensitive dogs, I observed the dog's reaction. It appeared slightly startled but soon resumed its barking, suggesting that this mode might be too gentle for persistent barkers.
Mode 2: This mode showed a marked improvement. The dog paused, seemed curious, and stopped barking for a more extended period.
Mode 3: Clearly the most potent mode, the dog not only stopped barking but also seemed to avoid the device's vicinity. This mode might be best for stubborn barkers.

Battery Life: Living up to its promise, the battery life was indeed commendable. I only had to charge it once during my testing period.
Sound Emission: A point of contention was the audible beeps. While marketed as "ultrasonic," the device does produce sounds that humans can hear, especially when triggered.
---
Feedback from Repellent Guide Team
Neighbor's Dog: One team member, after years of disturbance, finally found solace. The previously bothersome dog now refrained from barking at every passerby or bird, much to the member's relief.
Persistent Barker: Another team member tested it on their sister's dog, notorious for barking at even the slightest stimuli. Over a few weeks, the barking frequency reduced significantly.
Audible Beeps: A common feedback was the audible beeps. While effective for the dogs, it might be a disturbance for humans, especially if placed near windows or frequented areas.
Fence Barking: For those with dogs that barked through fences, this device was a game-changer. The previous disturbances from dogs barking at each other through fences reduced considerably.
Charging & Battery: The USB-C charging feature was a hit among the team. Modern and convenient, it ensured the device was always ready for use. The battery life, as promised, was impressive.
---
Pros & Cons
Pros
Effectiveness: In most scenarios, the device successfully reduced or halted dog barking.
Durability: Built for the outdoors, it can withstand various weather conditions.
Battery Life: Long-lasting battery life with the convenience of USB-C charging.
Flexibility: Three modes ensure that the device can cater to different dog behaviors.
Cons
Audible Beeps: Contrary to the "ultrasonic" label, it does produce sounds that can be bothersome to some.
Not Universal: While effective for many, it might not work for all dogs or in all scenarios.
---
Conclusion
The Zlolen Bark Box Professional Ultrasonic Dog Repeller, with its array of features, offers a promising solution for those plagued by persistent dog barking. While it has its shortcomings, like the audible beeps, its overall effectiveness in various scenarios makes it a worthy contender in the market of dog behavior correction tools. Understanding your dog's behavior and adjusting the modes accordingly will yield the best results. Given its pros and the few cons, it's a product I'd recommend with a few reservations.