Wondercide - Flea, Tick Spray for Home Review
Control, Prevention, Treatment - with Natural Essential Oils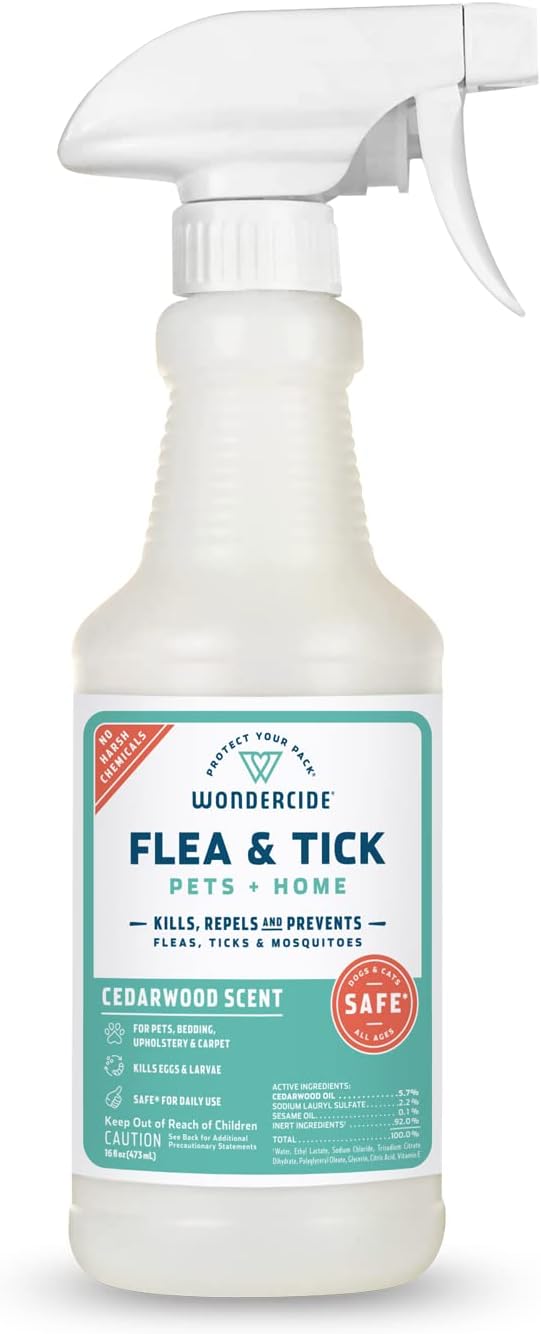 By Jess Simmonds, Expert Reviewer for Repellent Guide

published: Sep 01, 2023 | updated: Sep 01, 2023
Flea infestations can be a nightmare for pet owners and finding an effective yet safe solution is always a priority. Wondercide's Flea and Tick Spray offers an all-natural approach, and it has been the buzz in the repellent community. As a member of the Repellent Guide team, I've personally tested this product to offer an informed review on its effectiveness.
---
Product Description
Wondercide claims to be a holistic solution that's been vet-approved and developed with guidance from holistic vets. Notably, it has garnered attention after being featured on the popular TV show, Shark Tank. The spray is designed for both dogs and cats of all ages, and it promises to kill and repel fleas, ticks, and mosquitoes. It boasts a one-spray solution for both pets and homes.
The application instructions are thorough, advising a gentle introduction especially for pets that may be sensitive to new scents. It suggests regular application for best results and even has specific guidelines for active flea issues.
Perhaps what stands out the most about Wondercide is its variety of scents derived from natural ingredients. Users can choose from Cedarwood, Peppermint, Lemongrass, and Rosemary, all of which are tied to the main ingredient - Cedarwood oil. The product is transparent about its ingredients, ensuring no artificial dyes or fragrances.
---
Personal Experience
I used the Lemongrass variant, mainly because of its refreshing and clean scent. On applying it to the affected areas in my home, the aroma was pleasant and not overpowering.
1. Application: The spray was easy to apply, with a consistent mist that covered areas evenly. When applying to my dog, I did notice some hesitance due to the new scent, but after a few applications, this subsided.
2. Immediate Results: Visible fleas did seem to be affected upon contact with the spray. It took a minute or two, but they became less active and eventually died off.
3. Longevity: Over the course of a week, there was a noticeable reduction in flea activity. However, for persistent infestations, consistent applications are crucial.
---
Feedback from the Repellent Guide Team
Our team's experiences varied, but there were some consistent observations:
1. Sensitivities: While the product boasts natural ingredients, it's essential to remember that natural doesn't always mean universally safe. Some pets may be sensitive to even plant-derived ingredients.
2. Coverage: Depending on the severity of the infestation, you might run through the bottle quickly. This could make the treatment somewhat costly, especially for larger homes or multiple pets.
3. Residue: Some users reported a filmy residue post-application, especially on hard surfaces. This could pose slipping hazards and may not be aesthetically pleasing for some.
4. Scent Variety: The range of scents is a definite plus, catering to different user preferences. It's refreshing to see a product that doesn't just stick to the "clinical" smell we often associate with repellents.
---
Conclusion
Wondercide's Flea and Tick Spray is a commendable product in the natural repellent market. Its emphasis on holistic ingredients and its user-friendly approach makes it stand out. However, it's essential to approach with caution, especially if introducing it to pets for the first time.
For those seeking an eco-friendly and pet-safe solution, Wondercide offers promise. However, as with all treatments, it's best used as part of a broader flea control strategy, which may include regular cleaning, vet consultations, and other repellent measures.