Fretech Solar Powered Ultrasonic Snake Repellent Stakes Review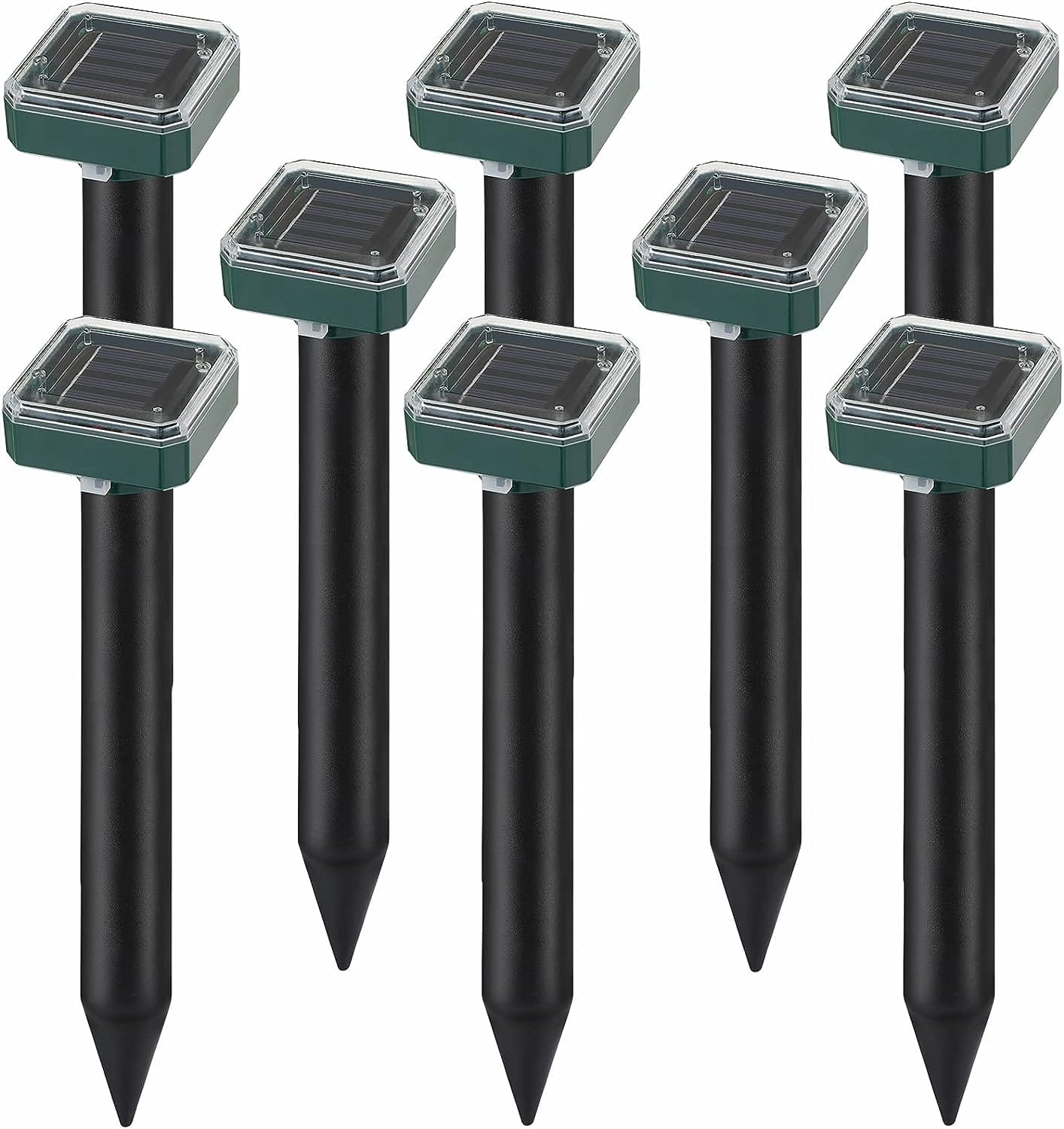 By Craig Basset, Expert Reviewer for Repellent Guide

published: Sep 05, 2023 | updated: Sep 05, 2023
Fretech presents its ultrasonic snake repellent stakes powered by solar energy, an eco-friendly solution to keep away those unwanted slithery visitors from your garden. The question is, do they live up to the promise? I decided to put them to the test.
Product Description:
Each package comes with 8 mole repellent stakes, made from durable ABS plastic. They are designed to cover an area of approximately 7000 sq. ft. Each stake emits a sonic vibration every 20 seconds to deter pests. The solar panel, measuring 56 x 56mm, charges the stake, although it takes up to two days of sunlight for it to be fully effective after the first installation. Installation is fairly straightforward: insert the stake into the ground, ensuring the top is about 2 inches above the surface and positioned to get maximum sunlight for recharging.
Testing Procedure:
I installed the stakes in my garden, which is known to have a few snake visitors from time to time. Following the seller's instructions, I placed them at strategic points, making sure the soil was hard/dense, as recommended. Over the course of a month, I observed the effectiveness of the repellents and kept note of any snake activity.
Personal Experience:
The first thing I noticed was the constant sound emitted by the stakes. It took a while to get used to, but after a few days, it became background noise. My pets, a cat, and a dog, seemed entirely unbothered by the noise, which was a relief.
I had positioned the stakes mostly around the perimeter of my garden and some near the walkway. After about 10 days, there was a noticeable decrease in the number of snakes I spotted. However, around the third week, I did find a snake skin shed near one of the stakes, indicating that not all snakes might be deterred.
Team Feedback:
Positives:

A significant number of the team reported a noticeable decrease in snake activity after installing the stakes.
The product seems to be pet-friendly, as several pets showed no distress due to the noise.
They offer an eco-friendly solution, utilizing solar energy.
Easy installation and clear instructions.

Negatives:

The constant sound emitted by the stakes can be a tad bothersome initially.
There were a few instances where the stakes did not deter snakes, indicating that its effectiveness might vary.
Conclusion:
The Fretech Solar Powered Ultrasonic Snake Repellent Stakes seem to be an effective solution for many users, but they may not guarantee 100% repellence. The eco-friendly design and pet-friendly nature are definite pluses. However, the potential ineffectiveness in some scenarios and the constant noise might be points of concern for some.
For those facing persistent snake issues, it might be a good idea to use these stakes in conjunction with other repellent methods for a more comprehensive solution.