Stingtings Jellyfish Sting Relief Kit
Treatment for Jellyfish Stings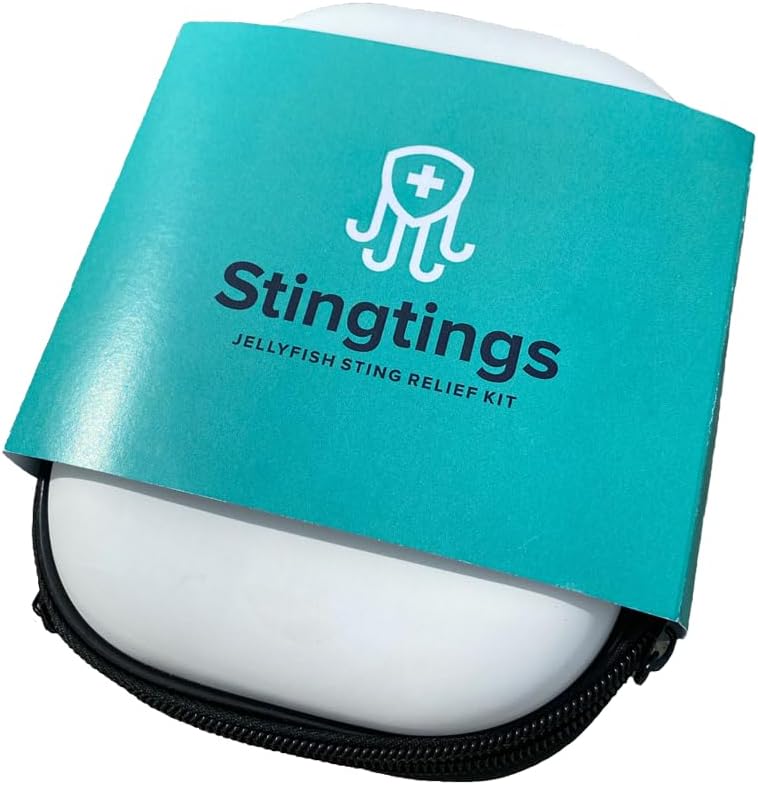 By Craig Basset, Expert Reviewer for Repellent Guide

published: Mar 15, 2023 | updated: Aug 25, 2023
The StingTings Jellyfish Sting Relief Kit has quickly become my beach day essential, and here's why:
Ease of Mind for Families: Witnessing your child suffer from a jellyfish sting can be harrowing. Thankfully, the StingTings Kit offers a swift and effective remedy. It not only alleviated my son's discomfort but also provided us both much-needed reassurance.

Travel Friendly: Compact and easy to carry, this kit seamlessly fits into any beach bag. Knowing it's within arm's reach is comforting.

Thoughtfully Curated: The fact that this kit was conceived by concerned parents resonates with me. They've directly addressed the increasing issue of jellyfish stings and created a trusted solution that underscores safety and reliability.

Comprehensive Kit Contents:

Hydrocortisone Cream: This potent cream, with its active ingredient of 1% hydrocortisone, is effective in reducing inflammation and itching. The cream also contains ingredients like cetomacrogol 1000, cetostearyl alcohol, and chlorocresol, ensuring a soothing experience for the skin.
Organic Vinegar Spray: Made from organic distilled white vinegar diluted to 5% acidity, this solution neutralizes nematocysts left on the skin, providing immediate relief.
Plastic Tweezers: Ensures the safe removal of tentacle fragments, preventing further irritation or stings.
Step-by-Step Instructions: Clear, concise, and immensely helpful, especially for those unfamiliar with the post-sting care process.
Durable Travel Case: Beyond merely housing the items, the sturdy zippered case ensures the components stay organized and protected from external elements.

Enhanced Beach Safety: With this kit in tow, lifeguards can stay focused on their primary duty - lifesaving, while beachgoers can independently address minor stings.
In summary, the StingTings Jellyfish Sting Relief Kit is a well-thought-out package of care, safety, and practicality. It's more than just a collection of items; it's peace of mind in a pouch. Whether you're a regular beach visitor or an occasional vacationer, having this kit is a wise and worthwhile investment. Safe and enjoyable beach outings are now even more attainable, thanks to this indispensable toolkit.