Cutter Insect Repellent Mosquito Wipes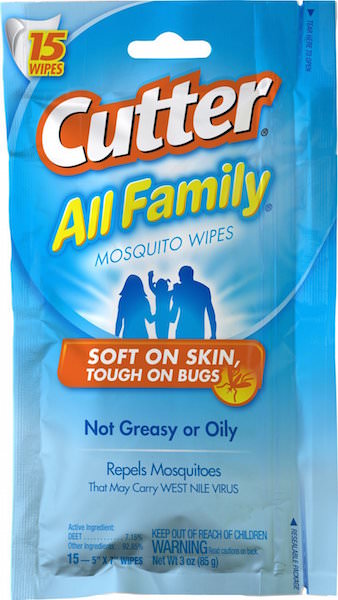 By Craig Basset, Expert Reviewer for Repellent Guide

published: Mar 15, 2017 | updated: Aug 27, 2023
A Day in the Woods: It was during our annual family camping trip that I was introduced to Cutter Mosquito Repellent Wipes. With memories of past trips where mosquitoes made a feast out of me, I was ready to take on any solution that promised relief. These wipes seemed like a convenient option — and they did not disappoint.
Scent and Sensation: Upon tearing open the first wipe, I was met with a cooling and clean aroma — a stark contrast from the often overpowering sprays. It felt refreshing and soft against my skin, which is usually sensitive to new products.
Portability is Key: One of the main advantages was the resealable pouch. It was easy to toss into my daypack, ensuring I had protection on-the-go. Plus, the wipes maintained their moisture even after multiple openings.
Family Friendly: With a nephew around, it's essential to have products safe for the little ones. Knowing that the DEET percentage was in line with guidelines for children's use provided peace of mind. The wipes became our go-to, especially during evening bonfires where mosquito activity was at its peak.
Two-Hour Test: The promised two-hour protection was mostly accurate. However, during a particularly sweaty hike, I found the need to reapply slightly earlier. Still, it was a small inconvenience for the protection it provided.
Pairing with Sunscreen: On sunnier days, we combined the wipes with sunscreen. Always following the recommended application order, we experienced no issues or skin reactions.
A Word of Caution: One thing I'd stress, especially to those with children, is ensuring the wipes don't make contact with hands that could then touch eyes or mouths. Additionally, be cautious around certain fabrics — my polyester camping chair now has a few marks after mistakenly wiping it down.
Final Thoughts: The Cutter Mosquito Repellent Wipes are a game-changer for anyone looking for convenient protection against mosquitoes and other pesky bugs. They're family-friendly, pleasantly scented, and relatively long-lasting. While not entirely foolproof, their ease of use and effectiveness make them a top choice for my outdoor adventures. Would I use them again? Absolutely! Would I recommend them? Without a doubt. Safe travels, fellow adventurers!