Thermacell Mosquito Repellent E-Series Rechargeable Repeller
Includes 12 Hours of Refills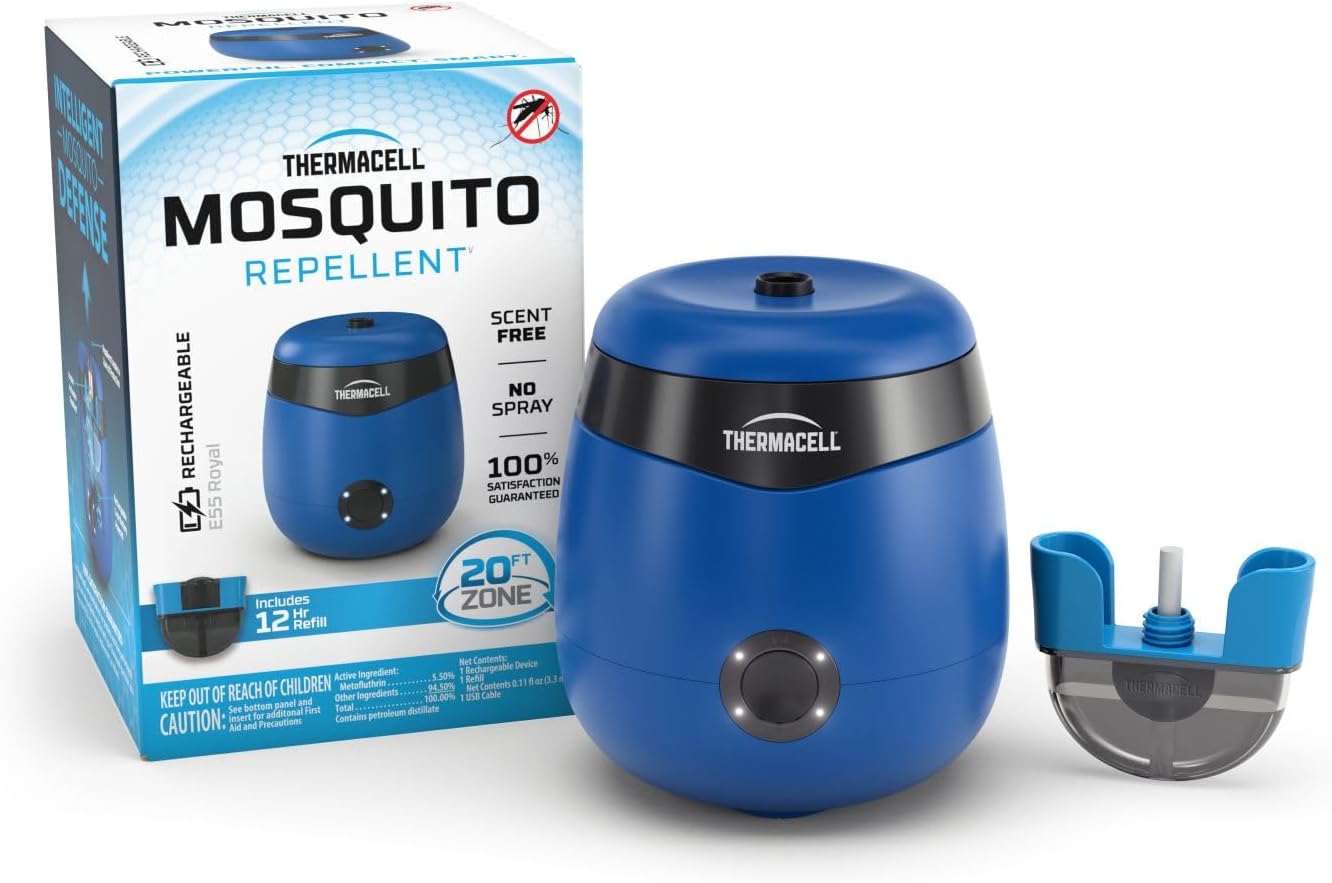 By Craig Basset, Expert Reviewer for Repellent Guide

published: Mar 15, 2023 | updated: Aug 25, 2023
Being a magnet for mosquitoes, I've tried almost every repellent in the market, from sprays to candles. Many promised protection, but few truly delivered. That was until I got my hands on the Thermacell E-Series E55 Portable Electronic Mosquito Repeller.
---
Unboxing & First Impressions
The E-Series E55 comes with a repeller unit, a 12-hour repellent refill cartridge, and a USB charging cable. The first thing that struck me about this device was its modern and compact design. It seemed portable and user-friendly right from the outset, with a simple one-button operation that hinted at hassle-free mosquito-free evenings.
---
Setup & Charging
Charging was straightforward, thanks to the included USB cable. The protective rubber cover hid the USB port, ensuring its longevity. The battery indicator below the power button provided real-time feedback on the charge status.
Once fully charged, the E55's lithium-ion battery offers an impressive 5.5 hours of continuous protection. What's great is that this device isn't just about keeping the mosquitoes away; it's about creating a safe space. Within 15 minutes, it sets up a 20-foot zone of protection - that's a whopping 80% more area than Thermacell's original line.
---
Using the E55
Inserting the repellent refill is a breeze. The top pops off, the refill goes in, and the top snaps back with a magnetic lock. With the refill in place and the device turned on, the evening became noticeably more peaceful. No more swatting away mosquitoes or incessantly itching bites.
While the initial setup offers 12 hours of mosquito protection, there's an option to extend this with a separate 40-hour repellent refill. This unscented, liquid-repellent cartridge is hassle-free to replace, ensuring you're never left unprotected.
---
Safety & Effectiveness
One of the most reassuring aspects of the E55 is its safety credentials. It's been independently tested and reviewed by the EPA. This isn't just about warding off your average mosquitoes; the E55 repels even those mosquitoes known to transmit serious diseases like Encephalitis, West Nile Virus, and Zika Virus. Plus, the DEET-free operation ensures you're not slathering harmful chemicals on your skin.
It's also noteworthy that this device is people and pet-friendly. So, while mosquitoes are repelled, your furry friends remain unaffected.
---
Warranty
The E55 comes with an automatic 2-year warranty, which can be extended to 3 years upon registration. This kind of backing speaks volumes about the company's confidence in its product.
---
Pros & Cons
Pros
Creates a broad 20-foot protective zone.
USB rechargeable with a solid 5.5 hours of continuous use.
DEET-free, making it safe for skin applications.
Independently tested for safety & effectiveness.
Extensible warranty.
Cons
For extended protection, you'd need to purchase the 40-hour repellent refill separately.
Conclusion
The Thermacell E-Series E55 isn't just another mosquito repellent; it's a comprehensive solution to mosquito problems. Whether you're lounging in your backyard, camping, or just enjoying an evening out on the patio, the E55 ensures that it's done without the pesky buzz of mosquitoes. Highly recommended for anyone looking for effective, hassle-free mosquito protection!
---
Extended Review: Thermacell E-Series E55 vs. EX-Series
In the world of portable mosquito repellers, Thermacell seems to be leading the way with their innovative products. After the stellar performance of the E-Series E55, I got curious about the differences between the E-Series (like the E55) and the EX-Series. Both are touted as battery-powered and rechargeable, offering impressive mosquito protection. Yet, there are distinctions that might tip the scales for potential buyers. Here's a more detailed breakdown.
Comparing the E-Series (E55/E90/EL55) to the EX-Series (EX55/EX90)
Common Features
Both series are battery-powered and rechargeable.
They provide effective protection against mosquitoes.
---
Distinctive Features of the EX-Series
Rubber Armored Protection: This adds a layer of ruggedness to the device, making it ideal for more adventurous outings where the device might take a few knocks.
Locking Top: Ensures that the repeller remains sealed, which could be particularly useful in situations where it might be jostled around, like during hiking or camping.
Integrated Lanyard and Carabiner: Enhances portability. Hook it onto a bag, tent, or belt loop for easy transport.
Battery Duration for EX90: The EX90 model boasts a 9-hour charge per use, giving you more uninterrupted protection.
---
Additional FAQs for Both Series
International Charging: Both the E-Series and EX-Series can be charged internationally. However, a 100-240 volt adapter input is needed.

Usage while Charging: You can use the repeller while it's plugged in and charging. But remember, doing so will extend the total charging time.

Charging Duration: Both the series typically take between 5-6 hours to fully recharge.

Battery Life Indicator: The devices are smart. When running low on battery, they emit a 3 "same note" signal. If you attempt to turn on a severely drained device, you'll see all three battery lights flash with the last one glowing red.

Active Ingredient: The repellent cartridges for these rechargeable platforms use metofluthrin as the primary active mosquito-repelling ingredient. It works effectively, driving mosquitos away without causing any discomfort to the user.
---
Final Thoughts
The decision between the E-Series and the EX-Series depends largely on your intended usage. If you're someone who is into rigorous outdoor activities, the durability and added features of the EX-Series might appeal to you. On the other hand, if you're looking for reliable mosquito protection for backyard lounging or occasional camping, the E-Series should serve you well.
Regardless of the choice, what remains consistent is Thermacell's commitment to delivering effective mosquito protection in a compact, user-friendly package.