Thermacell Olive Mosquito and Gnat Repeller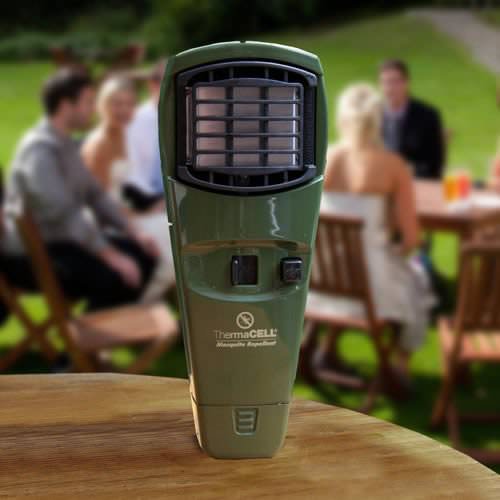 Thermacell mosquito repellent lanterns and appliances are powered by a single butane cartridge. Butane provides the cordless, portable heat that activates the patented devices.
The heat generated by the butane cartridge is directed to a metal grill that is part of the design of the Lantern or Appliance. A small mat, saturated with repellent, sits on top of the metal grill. Heat vaporizes the repellent, allowing it to rise into the air.
The repellent is allethrin, a copy of a repellent that naturally occurs in chrysanthemum flowers. It repels mosquitoes, black flies, and no-see-ums, and will not harm humans or pets.
Within minutes after turning on the Lantern or Appliance, the repellent creates a 15 by 15-foot (225 square-foot) area of repellency, the size of an average deck, patio, or campsite. All ThermaCELL Mosquito Repellent products use the same refills, which contain both repellent mats and butane cartridges.
Scientific testing has been done on the ThermaCELL® Mosquito Repellent unit for effectiveness against mosquitoes and other biting insects. Field tests have been carried out on four continents in areas of high infestation by:
The Department of Defense, Armed Forces Pest Management Board in Costa Rica
The Department of Defense, Walter Reed Army Institute of Research in Korea
Hacettepe University – SE Anatolia of Turkey
Scientific Coordination, Inc., in Maine, USA
Key Findings for Mosquitoes, Sand Flies, and No-See-Ums
ThermaCELL Mosquito Repellent is very effective at protecting people from mosquitoes, sand flies, and no-see-ums. Protection extends up to 25 feet away from the unit. Protection is greatest 7.5 feet away from the unit (15 feet in diameter) and the unit is 95 to 98% effective at this distance.
Key Findings for Black Flies
ThermaCELL Mosquito Repellent also works remarkably well against black flies. Protection is greatest 3.75 feet away from the unit, where 79% protection was provided. The test conducted by Scientific Coordination in Maine was done under windy conditions. The report states that in no-wind conditions, the protection level would most likely have been higher.
Specific Findings from Field Tests
The Department of Defense, Costa Rica "…96.7% of protection from mosquito attack, and 95.8% from culicoides attack in the Brenon area of Costa Rica."
The Department of Defense, Korea "Thus, the area repellent systems gave 98.6% protection from mosquito attack in the military bunkers."
Hacettepe University, Turkey "These results indicated that reduction in sand fly and mosquito biting rates in treated groups ranged from 87.5 to 97.7%."
Pros
Easy to use, just plug in a butane cartridge and fresh refill.
No need to apply repellent spray to those in the vicinity of the repeller.
Ideal for camping and use while barbequeing or relaxing on the porch.
Cons
Requires replacement butane cartridges and repellent refills, can get expensive.
Not suitable if those in your group are going outside a 15x15 ft area.
If you are travelling finding replacement cartidges and refills may be impossible.